How we're staying connected: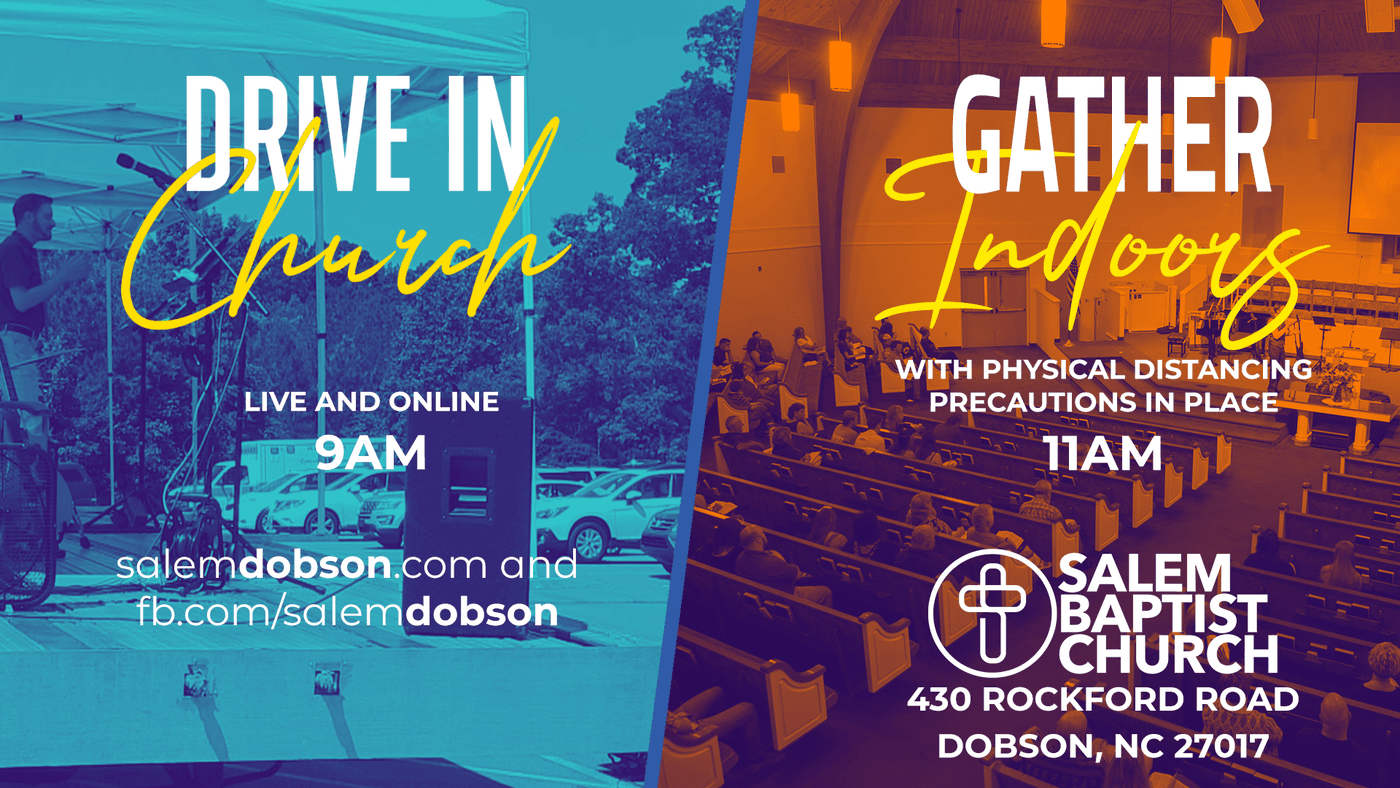 Online and In-Person Service Schedule
Sundays
9:00am Drive-In Worship in our parking lot (this service is also streamed live to salemdobson.com and fb.com/salemdobson)
11:00am Indoor Worship with physical distancing measures in place to keep everyone safe.
11:00am Servicio de adoración en Español en el gimnasio.
4:00pm Whiteboard Worship with Pastor Brian Smith is available on the Salem Kids page.
Tuesdays
7:00pm Discover Bible Study led by our Pastor for Discipleship, Rev. Brian Smith on Zoom. Email Pastor Brian for login details!
Wednesdays
9:12am Online Devotional and Prayer led by one of our Pastors at fb.com/salemdobson.
6:30pm Salem Students meets in-person (see more details on the Salem Students page)
Small Group Bible Studies are happening all week long using Zoom, Facebook, or in-person meetings! Find a Small Group that fits you!
Fresh Food Box Distribution
Thanks to a partnership with the USDA and North Carolina Baptists On Mission, we are blessed to have the opportunity to distribute fresh boxes of food, including vegetables, fruit, meat, cheese, and milk, to members of our community in need. Click the image below for additional details!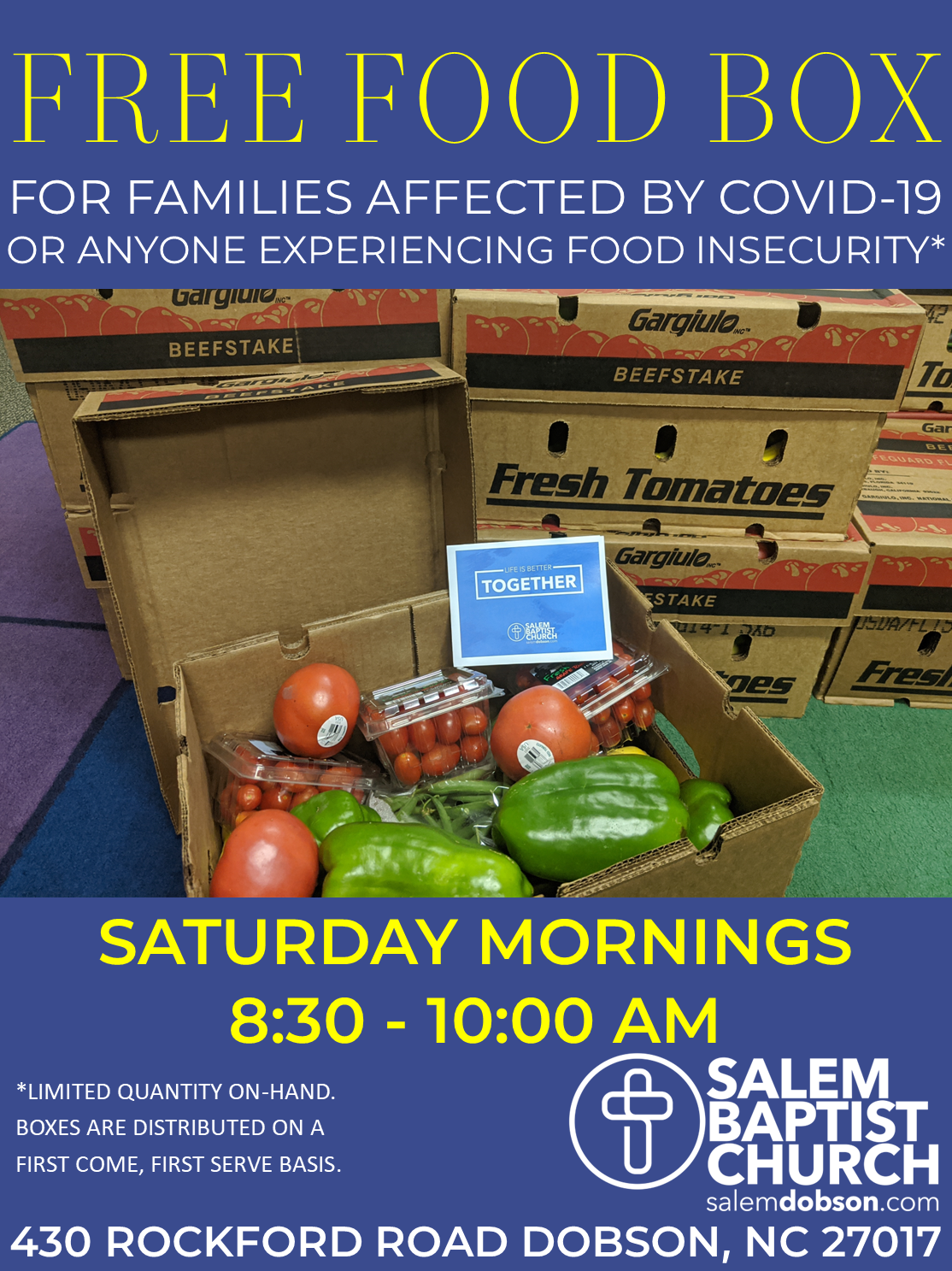 ---
Here's how YOU can continue to help the church minister in this time:
Continue to support Salem's ministry financially by giving online at salemdobson.com/give or mailing your tithe or offering to
Salem Baptist Church
P.O. Box 462
Dobson, NC 27017
You can donate the following food items to help local Surry County Schools Meal program:
Canned Soup
Apple Sauce Cups
Pop Tarts
Instant Oatmeal
Spaghetti-O's
Donation bins are located at the church, under the covered drive-through, Monday – Friday from 10:00 am – 4:00 pm and Sunday 10:00 am – noon.
If you are willing to volunteer to help those in our community (e.g. by picking up groceries or prescriptions for those who are not able to go out because of age, health, etc.) please let us know by emailing office@salemdobson.com or calling the church office at 336-374-4419 and let us know how you are willing to pitch in to help!
If you or someone you know needs help with picking up groceries, prescriptions, or essential errands, please call our church office.
We know that these times can be unsettling, but the Lord is our ever-present refuge and strength (Psalm 42).
The Church Office is open Mon-Fri from 9:00 am-5:00 pm. If there are ways we can minister to you during this time, feel free to call upon us. In addition to your pastors, each church member is part of our deacon family ministry. If you are unsure of who your deacon is, you can find out below.
---
The one who lives under the protection of the Most High
dwells in the shadow of the Almighty.
I will say concerning the Lord, who is my refuge and my fortress,
my God in whom I trust...
He will cover you with his feathers;
you will take refuge under his wings.
His faithfulness will be a protective shield.
You will not fear …. Psalm 91:1-5a