What is a Master Plan?
As we began to prayerfully look to the future of Salem Baptist Church, we saw the need for a Master Plan to discover the ministry potential of the additional acreage God blessed our church with and to access how to best meet immediate and long-term ministry needs. The church elected to work with LS3P, a NC architecture and planning firm with both ministry and education experience.
The Master Planning process identified existing ministry needs; assessed the urgency of projected future needs; considered safety, mobility, code and other issues; and examined how to best steward space and finances strategically for the short and long term.
How does this Master Plan help us fulfill our Mission and live out our Values?
Based on the truth of the Word of God, we know that saving people matters to God so it matters to us. God is reaching people through Salem and our church campus is one of the means that He is using. However, our current campus has limitations that could place a ceiling on multiple ministries that God has chosen to give to Salem and bless. As a result, we are compelled, even if it means sacrifice, to do whatever we can to reach people and help them grow closer to Jesus and one another. Even our facilities are to be harnessed in our mission of reaching every generation with the hope of a life all-in for Jesus!
Phase 1
The Master Plan is broken down into phases with Phase 1 being the priority because it would benefit the most ministries and immediate needs of the church. The Master Planning process fully explored renovating existing facilities to meet pressing needs, and determined that the cost of renovation would be equal to new construction and would actually cripple some existing ministries while addressing the needs of others. As a result, Phase 1 calls for new construction and it would benefit Salem in the following ways:
• New classrooms to provide small group breakout space for Salem Students (Youth Ministry) and AWANA clubs.
• Additional classes of an appropriate size to accommodate larger groups and classroom furniture.
• Increase safety by having children and youth meeting in a secure portion of the campus without cross traffic from adult education space. Salem kids Children's Ministry could have a single check-in/check-out point. Safety is a necessity in today's world and a top consideration for families considering a church. This move would also make it easier for parents to locate where their children were to go on campus and help in drop off/pick up.
• Adult education space would become available near the sanctuary with the move of church offices and children's classes. This would increase accessibility and visibility of adult classes.
• One Worship service and one Sunday School would be an option with new education space because a lack of education space is what currently drives the need for 2 services and Sunday Schools. The option of only one would decrease the strain on volunteer services and increase community in the church family.
• Consolidating the church office space into one location would allow for better collaboration among staff, access during the week, improved security during the week, and reduced shared office space for greater privacy in pastoral counseling.
• Handicap access to the 2nd floor of the existing Education Building (where Salem Students meets) would be accomplished with the elevator connecting the top floors of the new and existing wings. Lack of access due to mobility issues is currently an obstacle to utilizing one of the largest and best meeting spaces on campus.
• Athletic fields to allow for the growth of our Upward Sports ministry to include soccer. An Upward Soccer ministry has the potential to help reach the largest unreached demographic in a 3-mile radius of our campus.
• New classroom space to accommodate current and future growth for Salem Christian Academy. This would allow the school to meet the demand to grow beyond 6th grade and enable more than one class per grade.
• The increased education space would also mean less turnover for setup and breakdown of education space that is presently shared between SCA, Salem kids, and adult classes.
• Add much-needed storage space for multiple ministries.
Future Phases
Some of the additional needs identified and addressed in future phases include:
• Lobby/Gathering: There is a need for more gathering (common) space near the sanctuary that relates to the actual entrances used from the parking areas and can provide welcome area and clear connection to the children's areas.
• New Gymnasium & Kitchen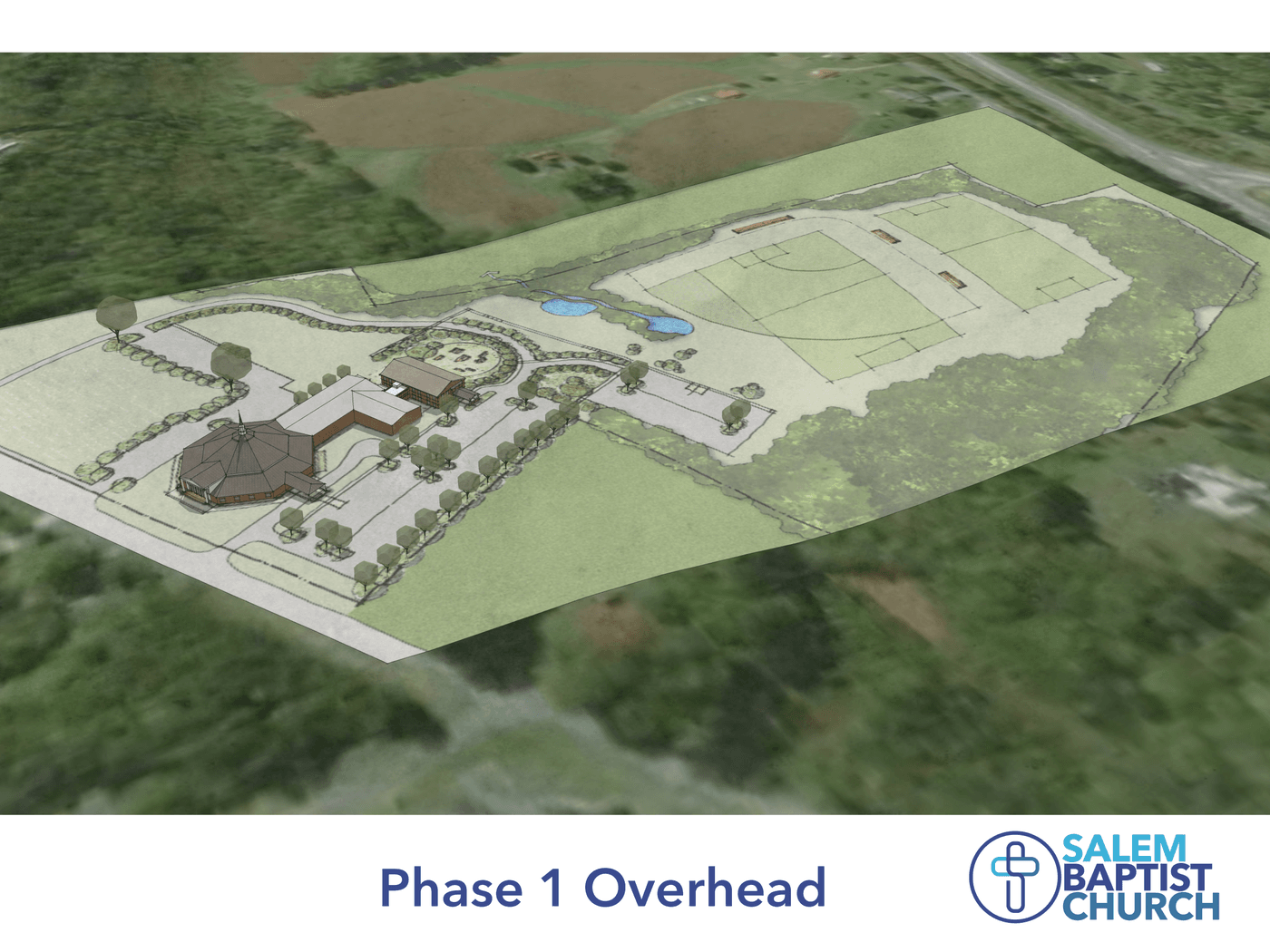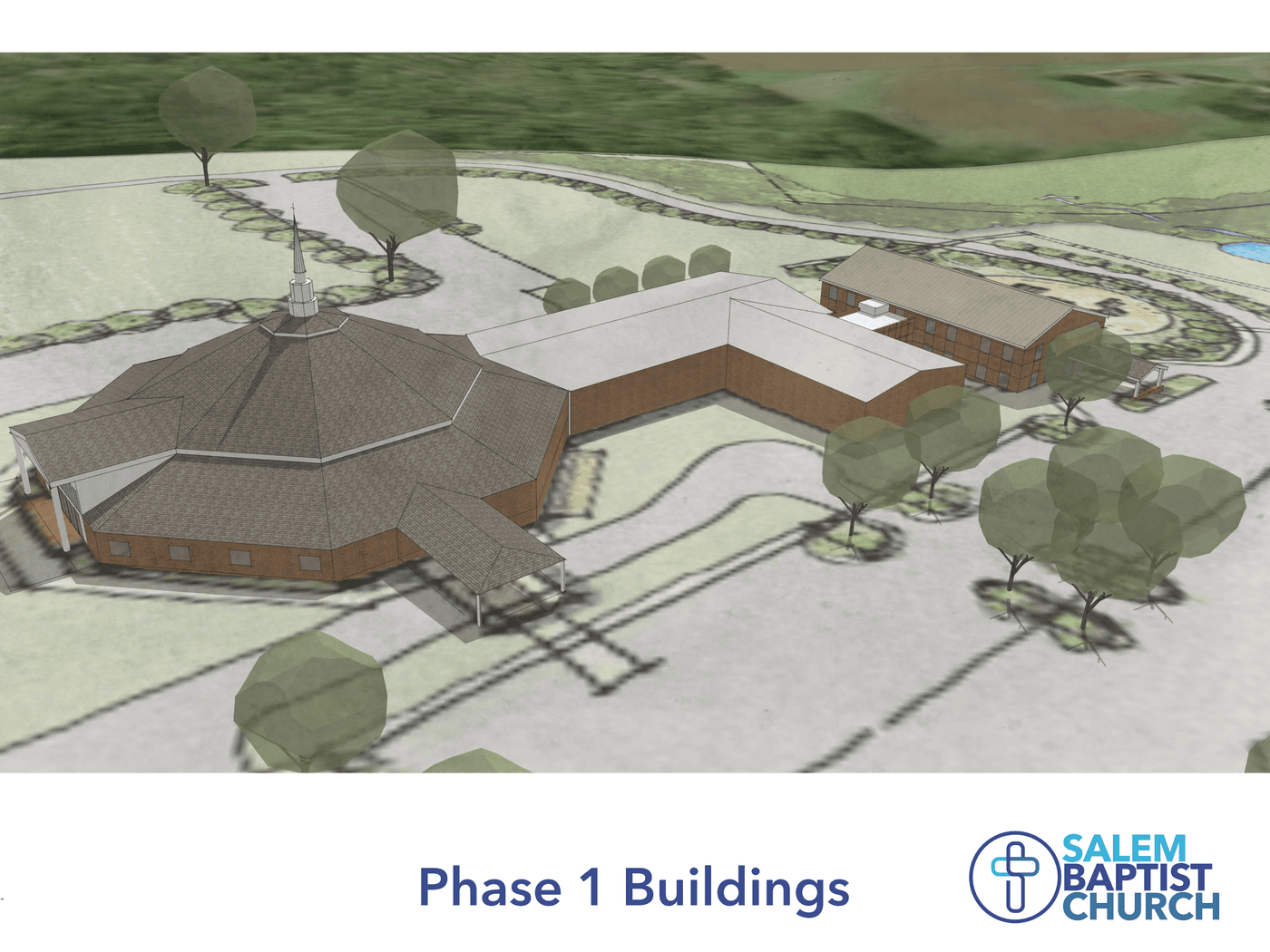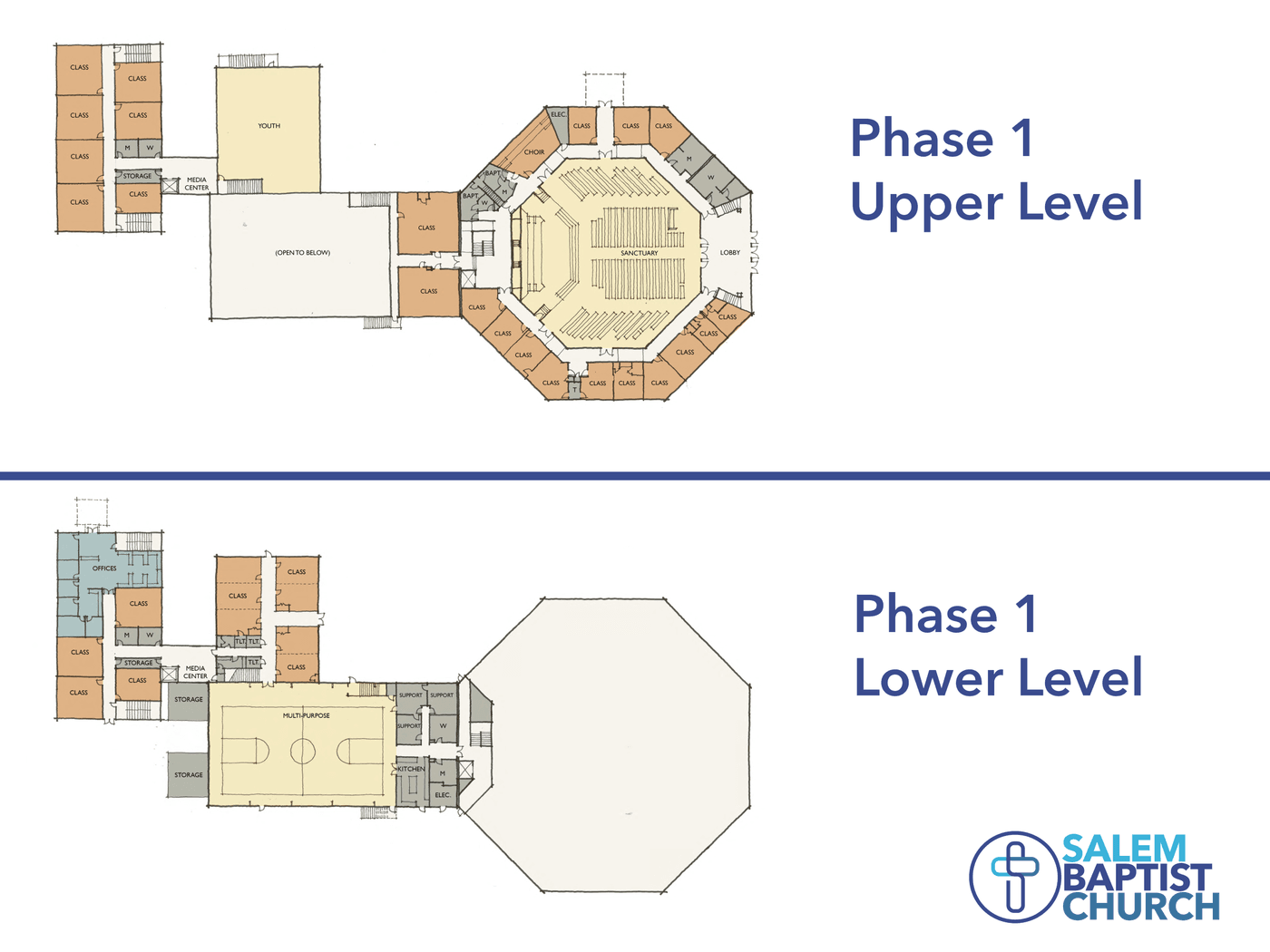 Did you miss our Master Plan Informational Meeting on November 9? Check out the video here!