Salem Students is meeting in person and online!
Each Wednesday, we are meeting in person while practicing social distancing. If weather permits, we will hold our youth worship service outdoors by the gym. In case storms are a possibility, we will hold our meetings in the gym and set the chairs up 6 feet apart. In conjunction with our in person worship service, Pastor Russ is hosting an online Bible Study every Wednesday at 6:45 PM with Zoom as well as streamed to Instagram. These meetings will be live streamed during our regular worship service. We ask that all students practice social distancing and refrain from coming in person if they are feeling unwell. Following our meetings, all areas will be sanitized.
Email Pastor Russ for login info. Be sure to keep up with us on Facebook and Instagram @salemstudentsNC for the latest and greatest information for Salem Student Ministry.
We want our students to experience four things
Spiritual Growth - I will know and live God's word because it is our authority for life and faith.
Worship - I will be all in for His glory because Jesus gave it all.
Community - I will commit to christian, biblical community, because God wants us to reflect Jesus in our relationships.
Outreach - I will share Jesus with my friends because people being saved matters to God, so it matters to us.
At SSM, we long to know and live God's word, be all in for his glory, grow together in Christ, and share Jesus with friends. For us, we want the teenagers in Surry County to have a place to belong. Community is heavily emphasized because we believe that Christians are made for biblical community!
Salem Student Ministry exists to make Jesus famous and to equip students to own and share their faith. While there are many fun and exciting events, everything that is done falls under the thrust of knowing and living God's word, growing in Christ, and sharing faith. A typical Wednesday night consists of snacks, games, fellowship, a time of teaching from the Bible, discussion, and prayer.
Salem Student Ministry meets on Wednesday evening from 6:45 - 8:15 in the Student Room (E121). A Sunday night small group emphasizes student leadership, accountability, and discipleship and meets at the home of Pastor Russ and Leah Billo. There are two Sunday school classes available during both hours (9:15 and 10:45) in the Student Room (E121).
One thing we stress is that students are not just the church of tomorrow, they are the church of today. In light of that, the desire is to see students involved in the life of the local church, serving and using their talents for the glory of God, and sharing their faith with their peers. By the time a student graduates, the hope is that they have made a personal decision to follow Jesus and they are actively owning their faith by growing in God's word, serving in the church, and sharing Jesus with their peers.
Want to find out more? Feel free to join us on Facebook and Instagram @salemstudentsNC or connect with Pastor Russ by e-mail!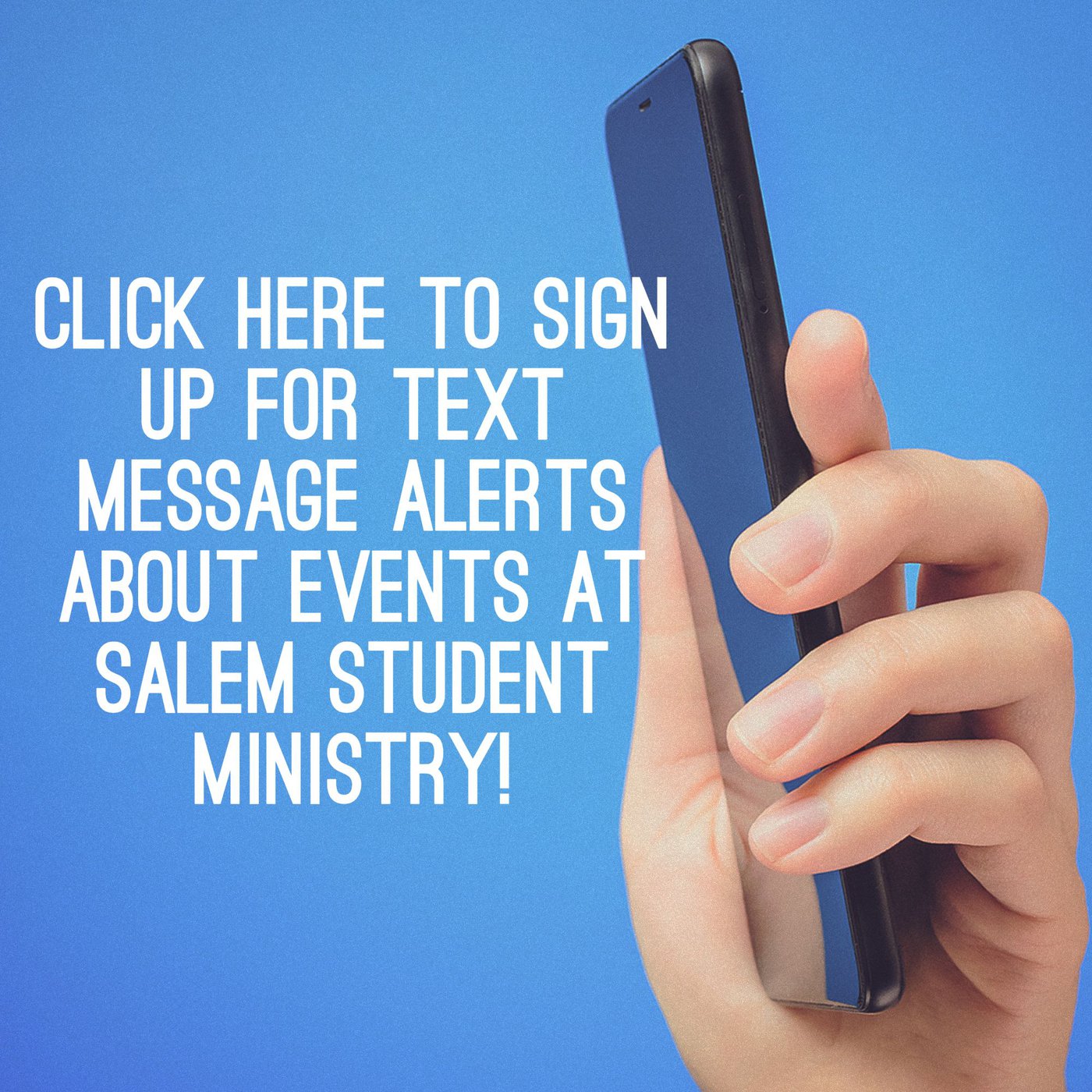 Upcoming Events
SSM Fall Retreat
When: Oct. 23-25, 2020
Where: Blue Ridge Assembly, Black Mountain, N.C.​
What's Happening: Join us as we take a closer look at being fearless in pursuing a life of godliness as young men and women in today's culture. Mac and Grace Johnson will be our speakers.
Who: 7th through 12th graders
Cost: $100 per person
Includes retreat materials, lodging, meals, for Saturday breakfast and dinner, and Sunday breakfast. Students will need to bring money for dinner on the way to and from Asheville (three meals) as well as money for souvenirs or any extracurricular activities. We typically recommend $50 for meals and souvenirs, but parents/guardians can make the final decision. Space is limited so sign up ASAP!
---